Yellowstone Airport Pilot Campground
February 1, 2021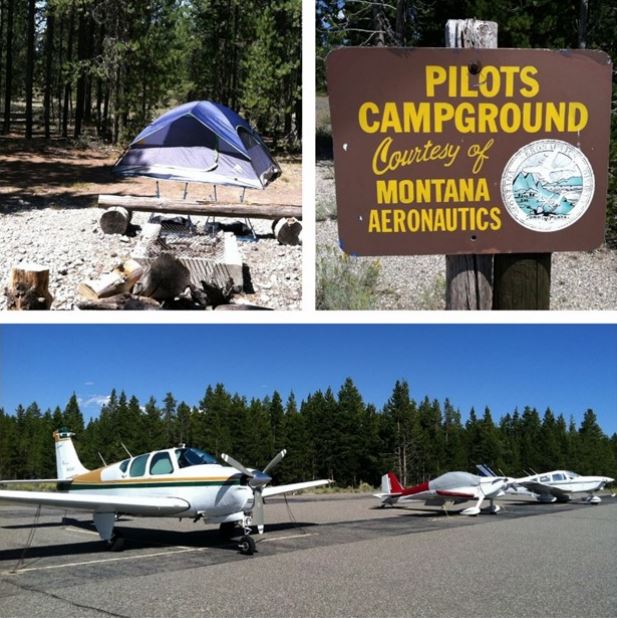 It is the dead of winter and we are longing for blue skies, green grass, and airplane camping! Many of us are busy researching where we want to recreate with our aircraft this summer. The Yellowstone Airport offers a FREE campground to pilots and their passengers who visit. Four maintained campsites are complete with a fire ring and grill cooktop. A new pavilion to escape the elements as well as a brand-new outhouse facility were added in 2020. Donations are accepted at the campground to assist with the cost of maintenance and improvements.
Campers can enjoy convenient access to the campground by contacting the Fixed Base Operator (FBO), Choice Aviation, on the Common Traffic Advisory Frequency to notify the ramp agent of your intentions to camp. The agent will park your aircraft on the far north end of the apron closest to the campground. During normal FBO business hours (7am-6pm) during the operating season, the FBO can assist campers and provide vehicle escort on the apron to the campground to unload groceries and other belongings. Vehicles are not permitted to remain on the apron overnight. Vehicles should park outside the perimeter fence around Gate 1. This practice allows campers to access their campsite by vehicle while keeping aircraft and the airport secure after hours. The FBO can also have rental cars standing by prior arrangement.
The Yellowstone Airport is excited to welcome fly-in campers to the campground and hopes to see you there this year! The airport typically opens for the season at the end of May. For questions or more information, please feel free to contact the airport directly at 406-646-7631.