Airport Information
WYS provides the most convenient gateway to Yellowstone National Park and the area's unique attractions.
Numerous airlines transfer in Salt Lake City to Delta Airlines flights and in Denver to United Airlines. This means you can leave home in the morning and be catching fish or watching Old Faithful Geyser by early afternoon!
We strive to accommodate all of your traveling needs.
We understand the importance of:
Easy access
Car rentals
Ground transportation
Casual food
Nearby lodging and recreation
Air Service

Delta Air Lines and

United Airlines are the commercial carriers for the Yellowstone Airport. Please see Flights for a current schedule.
Additional information and reservations are available toll free through Delta Air Lines: 1-800-221-1212 or Delta.com and United Airlines: 1-800-864-8331 or United.com.
Rental Cars and Ground Transportation
Car rentals and ground transportation are available at the airport and in West Yellowstone.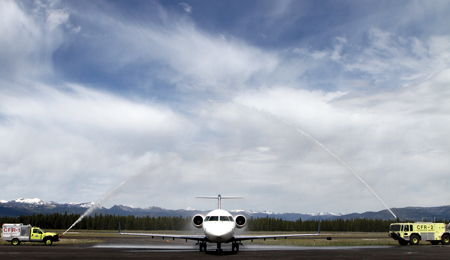 Lost and Found and Baggage Information
Local assistance is available by calling 406-646-7351.
Food Service
The airport's SmokeJumper Cafe offers delicious food at reasonable prices. For information, please call 406-646-9060.
Passenger Facility Charges (PFC)
Public Agency Quarterly PFC Report
Lodging
Motor inns and hotels, dude ranches and resorts, cabins and cottages, bed and breakfasts and historic inns are available throughout the region. Those who prefer to sleep under the stars will find numerous campgrounds within a short drive!
For lodging information, please visit:
DestinationYellowstone.com
Visitmt.com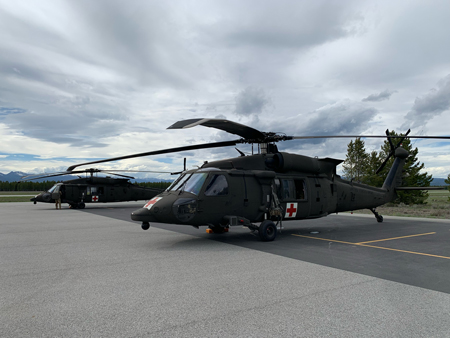 General Aviation
Information for non-commercial flight support and pilot services is available on our General Aviation page.
Facilities
The Yellowstone Airport is a great place to base a summer aeronautical business or to house your private aircraft! Sites are available for lease that can accommodate various sizes of buildings and aircraft access. For additional information, see Building a New Hangar.
Advertisement Opportunities
Advertisement Opportunity Fee Schedule
The Airport
Yellowstone Airport - located two miles north of West Yellowstone, MT, on Highway 191 - is owned and operated by the Montana Department of Transportation Aeronautics Division.
Montana Department of Transportation
2701 Prospect Avenue
PO Box 201001
Helena, MT 59620-1001
Aeronautics Division, 406-444-2506